Why Choose National LED for Your Warehouse LED Lighting Conversion?
At National LED, we're known for providing state-of-art LED lighting and solutions for all kinds of commercial warehouses. When you are looking for a company to provide you with a high-quality LED lighting solution or warehouse light fixture, we can give you the service that you want. We have provided LED lighting for companies such as Advanced Auto Parts, Cubesmart, Toyota and United Airlines. These are companies with commercial warehouses that are important to their operations.
We can help you with integrating LED lighting to your specific warehouse needs from the ideas all the way to the completion of the project. We've completed thousands of LED warehouse lighting installation for companies all over the United States, and we have our work down to a science. The products that we offer are made in the United States and created for their efficiency and effectiveness. We know that each warehouse has specific needs when looking for warehouse light fixture and we work to create a unique solution based don those needs.
How Your Warehouse can Benefit from Our LED Lighting Warehouses
LED lighting's very important to a modern business. This isn't just because it's energy-efficient and that it saves a business money, but warehouse lighting also gives you many practical applications in your warehouse.
Reducing Energy Costs
Warehouses are often very large in size and they need a lot of lighting. When you have us install LED warehouse lighting in your warehouse, you are going to discover that your energy costs are lower. Once you have LED lighting put into your warehouse, you can reduce your energy costs by 75%.
Better Warehouse Safety
The warehouse light fixture will also play a big role in the safety of your warehouse employees. Keeping your warehouse properly illuminated will make sure that they can see any hazards in the warehouse and reduce the chance of accidents happening. Having LED lighting also can help your employees stay awake and alert. The LED lights that we offer are made to properly illuminate the spaces and corners in the warehouse. With the right type of lighting solutions, you will have fewer accidents in the warehouse and safer employees.
Customizable Options
We know that your warehouse is unique and that what works in one warehouse may not work in yours. That's why we create a LED lighting solution that is right for you and for your warehouse. We will take a look at your warehouse's design and architecture so that we can create a warehouse light fixture that is right for you. We will start by creating a customized photometric layout of the property and then we'll talk about how the warehouse is used each day. We'll create a solution that is made just for you and for your needs. Check out some of our case studies on warehouse LED integrations.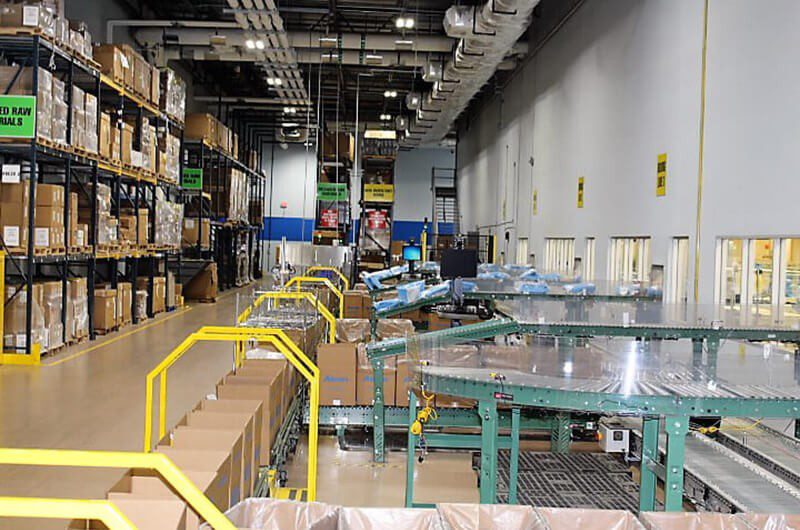 HID, Fluorescent, or LED lighting? Which one is the best for a Warehouse?
Choosing the right LED warehouse lighting system for your warehouse is far from easy, especially given that you may not know much about the important factors to consider. However, with just a little help from someone that's familiar with the only three lighting options available in HID, fluorescent and LED warehouse lighting, the choice would get incredibly easy and clear. So without further ado, let us make a detailed comparison between these three lighting options based on the important factors you need to consider.
HID Lighting
HIDs used to be the most popular lighting option for warehouses as they boast a high light output and can illuminate large spaces. They are still fairly popular even today.
Light Output
HIDs typically offer a light output of 100 watts or better, which is great when it comes to ensuring maximum visibility. However, HIDs are the worst option in terms of lumen depreciation, meaning they get less energy efficient with a decreasing light output over time. They are also not very impressive with their color temperature, as their light intensity is on the weaker side and they are usually either too yellow or almost unusually white. They also have a "warm-up" time, which means they take a few minutes – often up to 10 minutes or so – to fully light up. The same goes for when you turn them off. This might not seem like too big of a problem but it can turn out to be one during a power surge as it would prevent them from turning on for about 15 minutes.
Maintenance
While HIDs have a low initial cost, they are pretty high on maintenance. They have moving parts and can get damaged if they are not maintained well or even due to building vibrations. The ongoing maintenance needs typically include replacing the ballasts and also relamping. HIDs do have a lifespan of up to 25,000 hours though and are also durable enough to withstand both extremely cold and hot temperatures.
Savings
HIDs are the worst option on this front too as they are the least energy efficient.
Fluorescent Lighting
Fluorescent lighting is considered a more budget alternative to HIDs as it's a more energy efficient option, but not as much as LED warehouse lighting.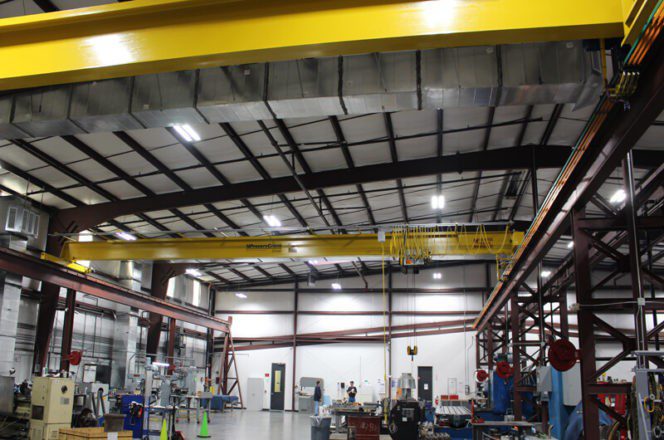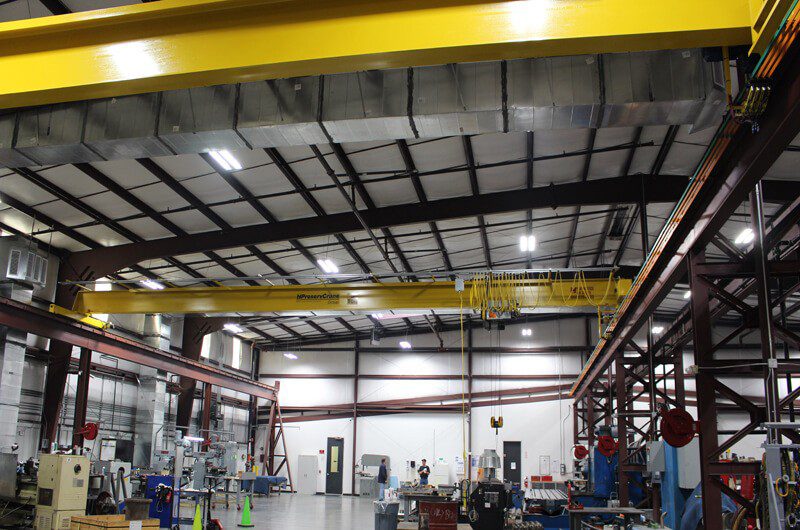 Light Output
While fluorescent definitely has a better light output than incandescent and even HIDs in most cases, there are a few big trade-offs here. Fluorescent has flickering issues unlike LEDs, and they even tend to start losing their lumen output – meaning they produce less output while using more voltage – as they age. They no longer remain energy efficient at all once they only have 30% of their lifespan left.
Maintenance
Fluorescent doesn't demand much in terms of maintenance though they are not fit for extremely cold or hot environments. Also, the on and off cycles can further reduce their lifespan, so you need to keep that in mind as well. They are also not as durable with a lifespan of only up to 15,000 hours.
Savings
As we mentioned above, fluorescent is more energy efficient than HIDs but not as much as LED. It also no longer remains energy efficient enough after reaching 70% of its lifespan.
LED Lighting
LED is the most recent lighting technology but it has emerged as the most versatile and energy efficient lighting solution for pretty much every type of need, warehouse lighting being no exception.
Light Output
As far as the lumen output is concerned, there's no beating LED, although HIDs do come close, at least on initial installation. LED lights offer 100 watts or higher too, but their light intensity is very concentrated and paves the way for a much more comfortable warehouse environment than HIDs or fluorescent lights. The focus and light intensity is pretty balanced with a great color temperature. Unlike HIDs, LED has no such thing as a warm up or cool down time and illuminates fully as soon as you turn them on and the same goes for when turning them off. Similarly, LED lights remain consistent with their highly efficient lumen output throughout their lifespan, there are never any flickering issues, and they do not lose their energy efficiency over time like fluorescent lights.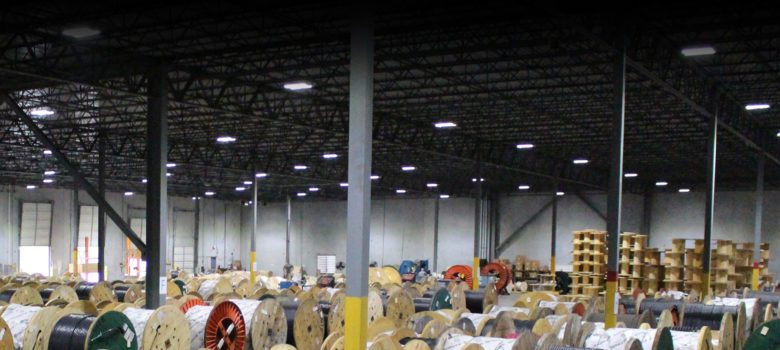 Maintenance
LED lights have a significantly higher initial cost, but they demand virtually nothing in terms of maintenance. They do not have any moving parts or filaments, and the on and off cycles don't affect their lifespan negatively either. They can also handle extremely cold environments very well, although extremely hot temperatures can affect their light output, though the decrease is usually barely even noticeable. LED lights are also the most durable with a lifespan of between 50,000 to 100,000 hours.
Savings:
LED lights are hands-down the most energy efficient as there's no heat loss when converting the energy voltage into lumen output. They use the least amount of energy while being a much better all-round lighting option. They are designed with a very innovative approach to use electrical current to produce light and to also emit light directionally to get the most out of the energy they are using.
The Clear Winner!
If you have read through everything we discussed above, you would have easily come to the conclusion that LED lights are the best overall option among the three lighting options we discussed (and the only three lighting options available) for warehouses. Be it the light output and quality, maintenance, or energy savings, LED lights are in a class of their own. Sure, they may be the most expensive in terms of installing and the initial costs, but when you consider the over long-term use, they turn out to be a clear winner!
Types of LED Lighting You Can Use In Your Warehouses
We have a lot of different types of outdoor and indoor commercial LED lighting options that you can choose from, so you can find the one that is just right for your needs. Each of our lights come with a 10-year Manufacturer Warranty, and customer satisfaction is our highest priority. There are many LED lighting choices for warehouses, and they include ceiling bay lights, light grids and many other types.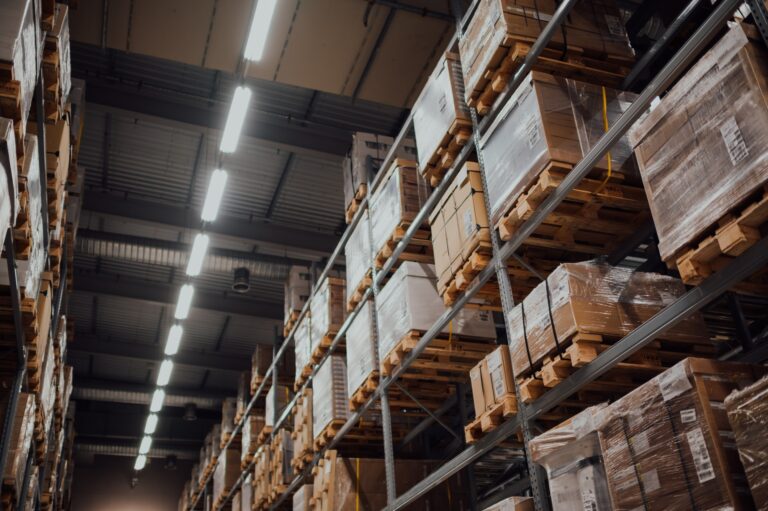 Types of Warehouse Lighting with Motion Sensors
High bay motion sensor LED lights have built-in motion sensors made to react to surroundings and are typically used for spaces with ceilings of 14 feet in height or greater, common in barns, warehouses, and convention centers. There are two types of high bay lighting with motion sensors, infrared and microwave. While infrared does pick up on motion, it will not penetrate through walls and are limited to shorter distances. Microwave motion sensors are ideal for warehouses because of their capability to emit through walls have range up to 50 feet!
Foot Candles and Photometrics of Warehouse Lighting (with or without motion sensors)
When defining light emitted from any light, including LED warehouse lighting, it is typically measured in foot candles (fc) which is the amount of light at a specific level or plane. Different areas of workspaces, warehouses, any intentionally lit area has a standard set by OSHA to ensure a safe environment which can be measured in foot candles.
A lighting plan or photometric study is a report which outlines light distribution and light levels for a specific location, indoors or outdoors. This advanced software enables you to digitally design an area, source fixtures, and determine mounting heights. Photometric software produces reports which show minimum, maximum, and average foot candles for the area.
Lighting designs and systems are not always equal. Even if two areas are the same size, the requirements may be different for each depending on the use of the environment. The following are the recommended foot candle measurements for warehouse LED lighting in various areas:
Warehousing- Inactive area 5 fc
Warehousing- Active area, Large Items 10 fc
Warehousing- Active area, Small Items 30 fc
Receiving and Shipping Area 30 fc
Shops and Maintenance Areas 50 fc
ASCO Equipment High Bay and Tube LED Project
ASCO Equipment in South Houston, Texas was just one of many perfect candidates for retrofitting old lighting into new LED lighting to increase efficiency, visibility and safety of their inventory area and warehouse space. By implementing 8' PJF1 Linear LED Strip lights and ExsaBay XLE Hight Bay LED Luminaires, ASCO replaced outdated and energy consuming fluorescent lighting in their inventory area in addition to their 1000-watt metal halides in their warehouse. In turn, the well-known industrial equipment supplier cut cost and improved the aesthetic of their space.
ASCO Equipment's Parts Manager knew it was that time of year when it starts to get very dark by the end of the workday, so he wanted to ensure his employees would be safe and productive during this time. We suggested he use the 8' PJF1 Linear LED Strip lights in a particularly dim area where much of his inventory was stored. The PJF1 is available in 2-foot, 4-foot, or 8-foot models to fit any areas lighting needs with options of lumen levels up to 9,730 and industry leading LEDs of 3,500 K, 4,000 K, or 5,000 K. This LED fixture has an estimated lifetime of 161,000 hours which equates to just over 18 years of power if left on 24/7. This model can be surface mounted or suspended and is designed to facilitate simpler installations. The housing of the PJF1 is constructed of steel in a standard white finish with a lens of frosted acrylic yielding uniform light distribution which is glare-free. This fixture is rated for 120V input; however, 277-347V input options are also available. Photocell and motion sensor options are available along with a 0-10V dimming option. Best of all, the PJF1 is back by our industry-leading 10-year warranty and is assembled in Houston, Texas. This product's best applications are schools, convenience stores, warehouses, malls, health care facilities, office spaces, hallways, and much more!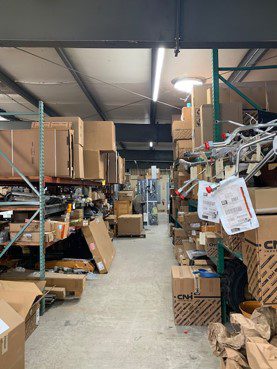 After installing PJF1s in the Inventory area for ASCO, this room was much easier to navigate through, even during the day. The tight rows of shelves with copious amounts of products were now well illuminated, making it effortless to decipher one product from another with all the boxes. The Parts Manager was very pleased with how well the PJF1s emitted light evenly among all products and stated this winter season does not stand a chance of getting in their way.
Much of the heavy lifting for ASCO Equipment is performed in the warehouse where, as mentioned before, had older 1000-watt metal halides which consume a great amount of power to operate and do not emit proper lighting for worker's safety. The obvious choice for this project was the ExsaBay LED High Bay which is the perfect replacement for any conventional fluorescent or HID system. The modular design features a variety of lumen packages all the way up to 72,150 and industry-leading 3,500K, 4,000K, or 5000K. This LED high bay fixture has a lifetime of 172,000 hours, which equates to a whopping 19+ years of use if left on 24/7. This model can be suspended, surface or pendant mounted and ships with (2) 40" chains and V-hooks; a pendant mounting kit is available if desired. The construction of the ExsaBay XLE features aluminum housing ensuring utmost durability and is designed to elevate thermal management. Another aluminum component on this LED high bay is the heat sink which is designed to operate with natural convective cooling. This model is rated for 120-277V input and features 0-10V dimming standard, with integrated back-up battery and emergency driver accessory available. The Exsabay LED high bay is also backed by our industry-leading 10-year warranty and assembled in Houston, Texas. This product's applications include of course warehouses, industrial and manufacturing facilities, large open areas, airport hangers, gymnasiums, commercial buildings, storage facilities, and many more!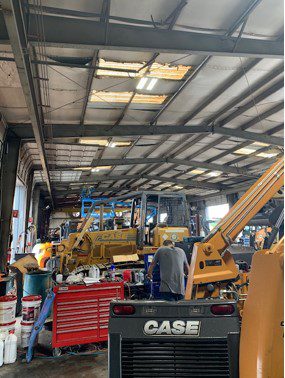 After installing the Exsabay LED High Bay, this busy warehouse was extremely more well-lit. ASCO's Warehouse Manager could not believe the difference these made even having them suspended almost 40' up. During the daytime, these bright LEDs outshined the sunlight pouring in through the bays and allowed the workers to not be inhibited by shadows cast by large machinery. ASCO's behind-the-scenes employees can now enjoy a safer working environment while these lights shine all day long.
Good questions to ask your prospective LED lighting vendor before purchasing high bay LED lighting fixtures for your warehouse
What is the operating temperature on these fixtures?
Operating temperature for any fixture is extremely important, and a vital question to ask especially when choosing a high bay LED fixture for your warehouse. Many warehouses have the equipment, and many times these pieces of large equipment can give off a lot of heat. Since heat rises to the top of the warehouse it can have a big implication on your LED fixtures if the temperature at the top of the warehouse gets too hot. This is a particularly important question to ask in Texas, or other states where temperatures can get extreme.
If the fixtures are operating over the normal operating temperature you can risk your LED's going out or losing a significant amount of lifetime expectancy.
What is the L70 on the fixture or lifetime expectancy?
Lifetime expectancy is typically the number one question to ask any LED lighting vendor. Typically when someone is looking for LED lighting one of their main concerns is cost. Cost is obviously a very important element to look at, yet you never want to buy the cheapest fixture on the market. Most cheap LED fixtures have a very bad lifetime expectancy on the fixture and this is due to the cheap components within the LED fixture. There are LED lighting fixtures, such as the ones at National LED, that have a lifetime expectancy, or L70, of 200,000 hours. This is an extremely high lifetime expectancy, and can be double or even quadruple the lifetime expectancy of our fixtures on the market. There is a simple question to ask yourself when it comes to lifetime expectancy… Would I rather spend more money on a fixture that I won't have to deal with for 20+ years, or do I want to buy a fixture that is half the cost and have to replace the fixture every 3-5 years? Many times people do not take into consideration the fact that when they purchase these LED lights, they will need to hire an electrician to install the light and will need to rent equipment to install the light, as well. These are two huge factors to consider when purchasing LED fixtures and thinking that you can get away with purchasing cheap fixtures 2 or 3 times. With the additional costs it can be very costly to make the mistake of buying cheap LED fixtures.
How many lumens do I need and how many fixtures do I need?
Your LED lighting vendor should be able to easily answer this question by taking dimensions of your warehouse and doing a photometric of your facility. A photometric is when a Led lighting vendor takes the dimensions of your warehouse and turns it into a photometric, which shows exactly how many fixtures you need ( or how many fixtures you currently have ) and then showing exactly how many foot candles those high bay Led lights will be giving you. There should also be a heat map involved with the photometric so you can see the distribution of light. The photometric will show the type of fixture used to get the calculations of foot candles and then you can decipher if you need a LED high bay light with more fixtures or with less. Many times companies will look to see if they can eliminate some lighting, and this photometric will be able to accurately tell you how many high bay fixtures you actually need.
How should I mount the fixture?
At National LED our LED lighting high bay fixtures come with (2) 40" chains, which you can hook up to the fixture and mount in most warehouses. If that does not work, or if you do not like the aesthetics of the chains, then we do have a "v" shaped hook, which you can also use to mount your fixtures. Mounting fixtures can be very easy to do, yet you must take this step seriously due to safety concerns. Most of these fixtures have a good amount of weight to them, and can sometimes be mounted as high as 60', so the process of mounting the fixture is one that should be taken very seriously. Ask your vendor if the fixtures come with safety cables. Safety cables are not mandatory, yet they can ensure safety and give you extra peace of mind when installing LED lighting.
How many LED lighting warehouse projects have you done in the past?
This is a pivotal question to ask when buying LED lighting, especially if you are looking for a turn key solution. There are vendors in the industry that will buy a large shipment or crate from China, market a 5 year warranty, sell a bunch of lights, and then when the lights go bad they are nowhere to be found and open up another LED lighting company. With National ELD we have been in business since 2006 and have always backed our 10 year warranty. If the LED lighting vendor hasn't been in business longer than they claim their warranty is, then you need to be very cautious of who you are dealing with and fact check them.
Are lens types or beam angles important for warehouse high bay LED lights?
The lens of the LED fixture is very important when it comes to the light distribution of the fixture. You can have a 90 degree spread which is a more directional output to the ground or you can have a 120 degree spread which will cover more area. This can play a big factor in the number of fixtures you need for your warehouse. If you have fixtures that are very far apart from each other then you will want to go with a higher beam spread. If you want to get the most foot candles possible, then you are going to want the more directional 90 degree spread.
How many foot candles should my warehouse have?
Standard warehouses with operating machinery or equipment are going to want about 30 foot candles. You can have less foot candles than 30 and still be very functional, but the industry standard for an industrial warehouse is about 30 foot candles. Most warehouses we see are much lower than 30 footcandles, some in the 3-10 foot candle range, yet they quickly realize that this is not up to par and call National LED to fix the light issues.
How do I know what type of footcandles I currently have?
You can use a standard light meter to take measurements of the foot candles your lights are currently producing. It is smart to take readings under all the light fixtures and then take readings in between the light fixtures to get an accurate measurement.
Do all LEDs last as long as they say?
Many LED fixtures will say one thing on their spec sheet and then show do another when it comes to the performance of the LED light. Ask your LED lighting vendor if the LED lighting fixtures that you are purchasing have been tested by a third party. Typically most manufacturers or LED vendors do not test their lights and this leads to very misleading spec sheets.
What information will I find on an LED spec sheet?
On any given LED lighting spec sheet you can find the optics of the LED light, whether the fixture can be high or low voltage, the number of lumens that the particular fixture carries, the types of Kelvin (color) the Led lighting fixture will produce, how to mount the fixture, the warranty on the fixture, the lifetime on the fixture, and where the fixture is most commonly used.
---
Conclusion–The Only Choice for LEDs
When you are looking for a company to install LED lighting in your warehouse, we hope that you will choose us for LED warehouse lighting. At National LED, we work together with you to ensure that the lighting solution that you receive is the one that you want. Our LED lighting solutions are offered at a reasonable cost and they help you save money. Why not choose a company that has worked with well-known companies all over the country?
Do you want to learn more? Contact us and let us know what questions you have. We are always glad to answer your questions and let you know how we can help your warehouse be as efficient and safe as it can be.