Why Choose National LED for Your LED Parking Lot Lights?
The biggest reason to have LED parking lights is to have a more energy-efficient and cost-effective type of lighting in your parking lot. When compared with traditional lighting types, LED lights will give you lighting that's much more energy-efficient, which is easier to set up and maintain. LED lighting also offers you better lighting. Maintenance is also much less expensive and is a lot less hassle since the bulbs have to be changed less often. Just look at the different types of LED lights we offer.
Even though a lot of manufacturers offer parking lot lights, the materials that are used in the lights may not be the best. You want to compare many different suppliers so that you can find the best type of lights for your parking lot. At National LED, we only provide you with high-quality lights that are made in America. Each light also comes with a 10-year manufacturer warranty.
There are specific kinds of LED lights for parking lots and there are many different applications that are used for this exterior lighting, which include parking lot pole lights, LED shoebox lights, light outposts and others. All of our LED lighting options are made to look modern and sleek.
---
Benefits of LED Parking Lot Lights
LED lights in your parking lot can make a huge difference in the way that customers see your business. Below are some of the benefits of having LED lights in your parking lot.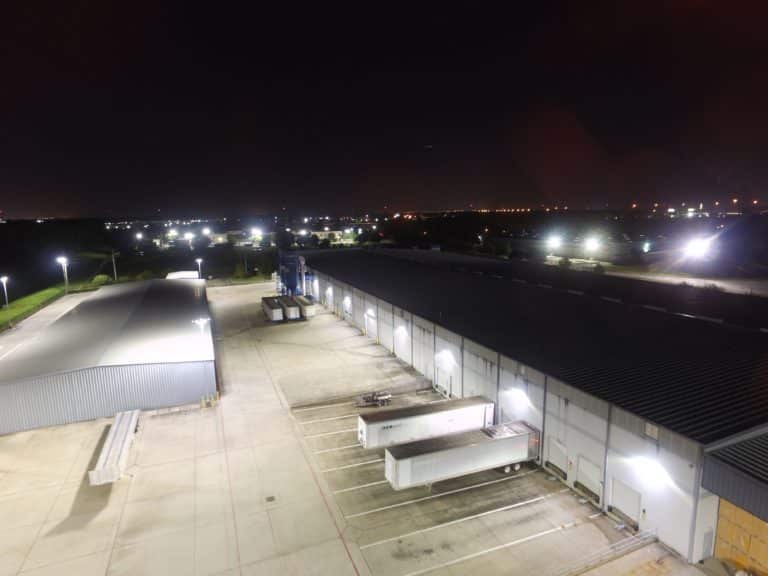 ---
Safety for Customers & Employees
One of the biggest reasons to have LED lights in your parking lot is to help keep your customers and employees safe while they're outside. Whether your customers are running in for something small or they're in your business for hours, you want to make sure that they stay safe inside and out.
When your employees are working early morning or late at night, you want them to be safe when coming into work or leaving work.  You don't want any accident or mishap to happen, right? It will not only be troublesome for employees but will also hamper productivity as well as the reputation of your business. Good bright LED parking lot light in your parking lot can help make this happen.
---
Visibility for Customers
When you have a business, you want to make sure that your customers know that you are open. Having bright LED lights in your parking lot will let your customers know that you are open for business. Nothing says open like a brightly lit parking lot.
This is where LED parking lot lights enter the picture. You must have heard that the first impression is the last impression. It's quite true as you can make the first impression only once and never get a second chance to make a first impression. Well, an LED parking lot light will make customers spot your business and draw to it. If a customer spots your business but isn't immediately drawn to it, it means that you are losing business. That is why lighting is important, as it creates a huge impression.
Is your parking lot well lit? Is your sign easy to read? Is the parking lot bright and safe? Even if you are infrequently open when it's dark, the customers will see your business. With an LED parking lot light, you are creating a good impression on the customers even when you are not open. Adding LED Lighting to your parking lot can be the difference in drawing in those customers.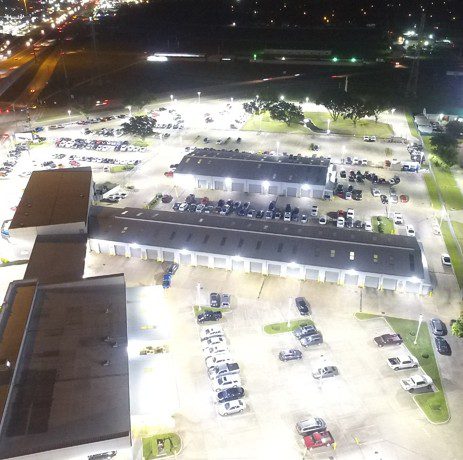 ---
Professional Landscape Analysis
In addition, our 3D landscape analysis helps us to stand out from other types of suppliers. We will do a complete assessment of the space of your business to ensure we're picking out the right LED lighting solution that will work best for your landscape. When we come out and survey your site, it lets us to create a customized layout design that's made specifically for your business. This is going to help you save money and it will ensure your business is wisely using its funds.
We are always glad to give you the best customer service that we can. If you are interested in knowing more or you have any other questions, please contact us and let us know how we can help. We don't just supply lighting fixtures; we care about your business. We want to make sure that you're getting the perfect fit for your business. That's why we work together with you every step of the way.