It's surprising how little people know about lumens when looking for lighting options for their warehouse. Even people that have already decided that they want to get commercial LED lighting for their warehouse as it's indeed the best option, do not have much of an idea about the lumen requirement.
And we do not blame you if you're one of these people, though. This is because we know it's not something an average person would know much about.
But as it's a crucial factor to consider when installing a lighting system for your warehouse, we decided to do this post and help you figure out exactly what you need to know about the lumen requirement for your warehouse.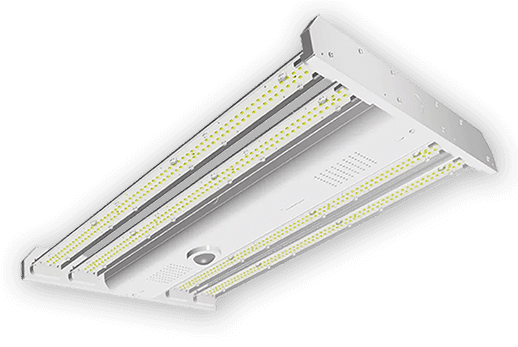 At National LED, we're known for providing state-of-art LED lighting and solutions for all commercial warehouses. So, when you are looking for a company to provide you with high-quality LED lighting solutions and turnkey installation, we can give you the service you want. For example, we have completed commercial warehouse lighting projects for Advanced Auto Parts, Cubesmart, Toyota, and United Airlines.
Explore High Bay Lighting
Busting Some Myths
Before we get to the more technical stuff, let us clear some misconceptions. Many people believe that when it comes to the lumens, more is always going to be better. It's not really the case though.
While a bright working environment is necessary for a warehouse and other industrial facilities, lighting that's too bright can cause discomfort to the workers and employees. So, no, more lumens is not always better.
As for ending up with fewer lumens than you need, it's pretty much obvious. If your warehouse is not adequately bright, there would be areas that would remain much dimmer than they should, and it would make it difficult for your workers to work efficiently.
This is the reason you need to put some thought into your lumen requirement. The lumens of your lighting system must be exactly in the range you need, not too little or more.
With that out of the way, let's understand how to go about figuring out a pretty accurate lumen requirement for your warehouse.
Watch some of our warehouse LED lights installation
Considering the Size of Your Warehouse
First things first, this is going to be the first and basic step of the calculation to find your ideal lumen requirement. In this step, all you need to do is multiply your warehouse's length with the width.
So for instance, for a space with a length of 100 feet and width of 80 feet, you need to do 100 times 80, which would give you 8,000 square feet.
Figuring Out the Ideal Lumen Suggestion
Now, before we help you figure out a suggested lumen requirement for your warehouse, let us tell you that a few different factors may influence that number and make it higher or lower. One of the important considerations here is the space between the floor and the ceiling (where the lights would be installed) in your warehouse.
The type of items or products that will be stored and handled in the warehouse is a very important factor too. While large products are easier to work with (in terms of the brightness you need), smaller items require a higher amount of brightness.
With that said, here's a simple, basic lumen suggestion per square feet for warehouses, which is also known as foot-candles.
For warehouses handling large items, the ideal lumen requirement tends to be around 10 lumens per square feet.
For warehouses storing and handling smaller items, this number shoots up to around 30 lumens per square feet.
For aisles, something in between is recommended. So 20 lumens per square feet is the recommended requirement.
Use our calculator to figure out how many lumens for you need for your application
So for our example above, assuming you're working with smaller items, your suggested lumen requirement would be the main working area times 30. The reason we say main working area is that for aisles, you will need to calculate at 20 lumens per square feet. So basically, in this example, you will need to deduct the aisle area from 8,000 square feet, and then multiply that number by 30.
Then calculate the lumen requirement for your aisle area separately by multiplying it by 20, and finally adding to the result you got above.
A Final Word
As we mentioned above, you will need to consider a few more things to figure out a more accurate lumen requirement for your warehouse facility. However, this calculation will help you get a fairly accurate lumen suggestion that you can then easily work with based on your specific requirements.