Why Choose National LED for Your
Retail Store
LED Lighting Conversion?
When you have a retail store, whether it's a general retail store or a grocery store, one thing that you want to do is to have a well-lit place so that everyone can see what you have to offer. At National LED, we know how important this is for you and your customers. That's why we offer a wide variety of LED lighting options that can help you keep your employees and customers safe and happy. We have worked with a large variety of retail customers and helped them to create a LED lighting design for their business that showed off their items in the best light. We have many options both for indoor and outdoor LED lighting, so we can provide you with a
How Your Retail Space can Benefit from LED Lighting
If you are looking for ways to make the shopping experience more enjoyable for your costumers and create an enjoyable and safe place for your employees to work, one of the best ways that you can do this is through using LED lighting in your store. Below are some of the benefits that you will find from using LED lighting in your retail space.
Better Shopping Experience
The first thing that you will see when you equip your retail space with LED lighting is that your customers will have a better shopping experience. Not only will they be able to see what your store has to offer, but they will find that your lighting is better for trying on clothes if you sell clothes and reading labels. This will help you provide customers with good customer service.
Increased Safety for Customers & Employees
The second thing that LED lighting will provide is increased safety. When a store is well lit, it helps customers and employees spot any kind of hazards in the store and outside of it so it can be cleaned up quickly. A well-lit parking lot also will help customers at nighttime and employees who have to close or open the store when it may be still dark out.
LED lighting is great for retail stores because it will not create any glare that can cause eyestrain and irritation to your eyes. This type of lighting also provides a bright light which will allow you to do work while you are inside the store. This type of lighting also allows the customer to move around without having to be constantly turned around to see what they are looking at. You may be able to use this lighting to make your store more welcoming by placing lights near tables and in doorways. The lighting used in a retail store is very important because it can create a warm ambiance. You may want to consider a low voltage lighting system that will help reduce the costs associated with lighting and the maintenance of the lights.
Simple Maintenance
The third thing that LED lighting offers to retail stores is that LED lights are easy to maintain. Since they last a lot longer than other types of bulbs, they don't have to be changed as often. This means that you don't have to worry about employees going up on ladders to change the light bulbs inside and outside as often.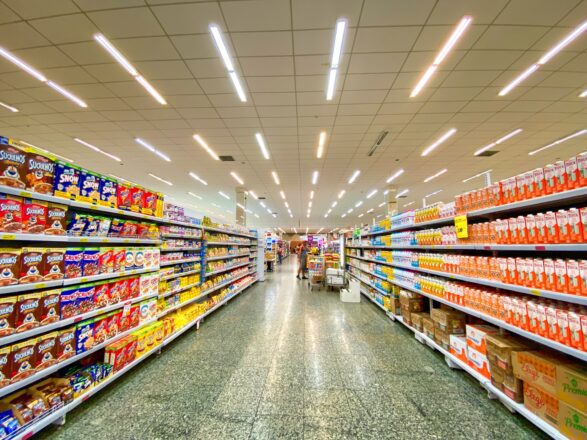 Decreased Costs
The final benefit that LED lighting offers is a decrease in costs. Since LED lights are more energy-efficient when compared with other types of lighting solutions, you are going to notice a drop in your electric bill. Not only that but since the bulbs have to be replaced less often, you don't have to worry about constantly purchasing bulbs to replace the burnt-out ones.
The fact that LED lights are energy-efficient means they are also cost-effective and therefore a good option for retailers looking to use them in retail stores. LEDs last longer than compact fluorescent lamps. Also, these lights emit less heat, which reduces the amount of energy needed to keep them working at optimum capacity. They are also relatively cheap when compared to compact fluorescent or incandescent bulbs.
Many retailers are seeing the benefits of using LED lights in retail stores and are now installing them in their stores to cut down on costs. Because of the cost-effectiveness and reliability of these lights, they are now being used by many large companies. Companies such as Walmart, McDonald's, CVS, Target and Wal-Mart use these lights in retail stores around the world. and the reason for this is clear, cost savings, reliability.
What LED Lighting is Right for Your Retail Space?
If you have a retail space, you want to keep a few things in mind. There are five main areas that you are likely to be concerned about:
Main store

Receiving area

Parking lot

Employee areas

Bathrooms
If you are interested in knowing what we can offer you and you want some suggestions, please get in contact with us and let us tell you what we can offer you. We have many years of LED lighting under out belt and we are ready to help you with finding the right solution for you and your customers. Contact us today and let us show you the magic we can work on your retail space.