If you are looking to upgrade the lighting at your sporting facility, LED sports lighting is a great option. Not only does it provide superior lighting quality, but it is also more energy-efficient than traditional metal halide lighting. In this blog post, we will provide a step-by-step guide on how to professionally install LED sports lighting.
Check out our LED sports lighting fixture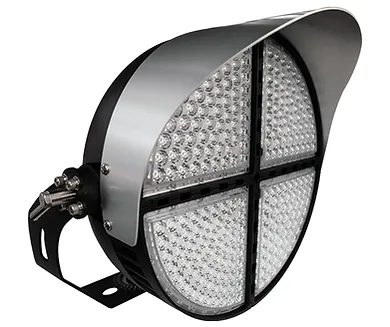 Step 1: Planning
Before starting any installation project, it is important to first do your planning and research. This will help ensure that the project runs smoothly and that you have all of the necessary materials on hand. When planning for an LED sports lighting installation, there are a few things you will need to take into consideration:
The size of the area to be lit: This will determine the number of fixtures needed as well as the spacing between them.
The wattage of the fixtures: This will dictate how much power will be required for the project.
Mounting options: There are several different ways to mount LED sports lights. You will need to decide which option is best for your specific application.
Step 2: Installing The Fixtures
Once you have planned out your project and gathered all of the necessary materials, you can begin installing the fixtures. We recommend starting at one end of the area and working your way towards the other. When installing the fixtures, be sure to follow these guidelines:
-Securely mount each fixture using the appropriate hardware for your chosen mounting method. Make sure that the fixtures are level and properly secured so that they do not become loose over time.
-Connect each fixture to its own circuit breaker. This will help prevent overloading the electrical system and minimize the risk of fires.
-Install a ground wire for each fixture. This helps protect against electrical shocks in case of a short circuit.
-Test each fixture to ensure that it is properly installed and functioning before moving on to the next one.
Note: If you are not comfortable working with electricity, we recommend hiring a professional electrician to do this part of the project for you.
Installing LED sports lighting can seem like a daunting task, but if you take it one step at a time, it is certainly doable. By following our step-by-step guide, you can be confident that your installation will go smoothly and that you will end up with a top-quality result that looks great and provides superior lighting for your sporting facility.
For over 14 years, National LED has been the leading provider of sports lighting installation services in the country. We have installed lights for professional, collegiate, and amateur sporting venues nationwide, and our experience and expertise is unmatched. We use the latest technology and equipment to ensure that your sports lighting is installed correctly and performs at the highest level. Whether you're looking to install lights for a new stadium or retrofit an existing one, National LED is the company you can trust. Contact us today to get started.