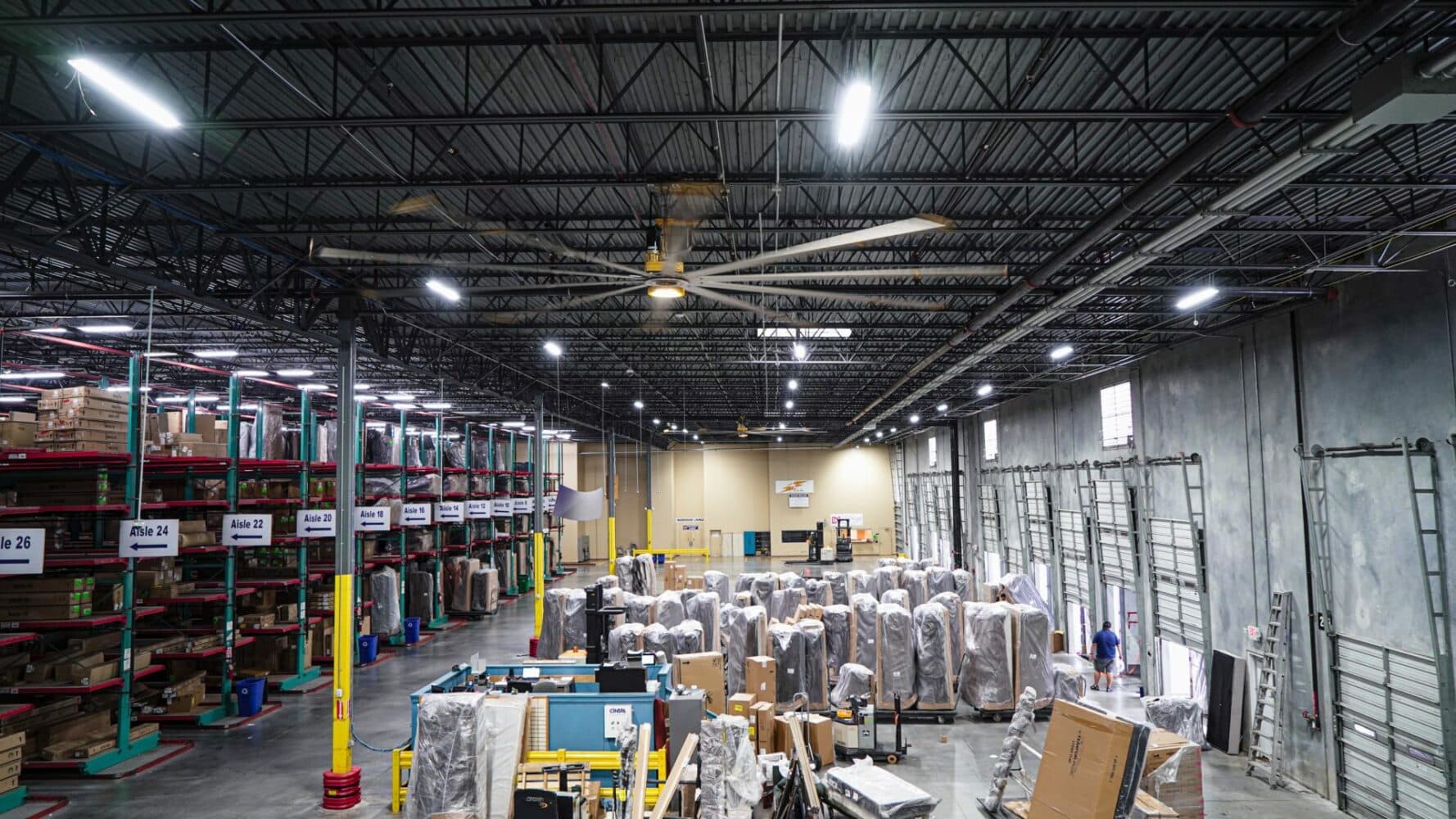 At National LED, the premiere Texas LED lighting company, we specialize in industrial and commercial LED lighting. We can help you upgrade conventional warehouse lights to LED.  We manufacture our commercial led lights here in Houston, TX at our 60,000 S.F. facility, where we also maintain a large inventory of LED warehouse lighting and LED commercial lighting. National LED not only manufactures the highest quality Industrial LED fixtures on the market, we also provide led lighting installation services by highly qualified industrial lighting installers. Call National LED today to schedule a complimentary lighting consultation, in which we will meet you at your commercial facility, assess the condition of your current conventional lighting system, complete a photometric analysis, and propose a cost effective LED upgrade, if warranted.
In the meantime, here is a brief history of man-made warehouse lighting followed by some things to consider when deciding if it is time for your conventional industrial lights to be upgraded.
Warehouses have been in use since the Roman Empire, and have seen various types of lighting technology come and go in that time. But, you can upgrade conventional warehouse ights to LEDlights. Until the Industrial Revolution, lighting technology consisted of improvements on the combustible torch. Beginning with the invention of a commercially practical electric bulb by Edison in 1879, improvements in lighting have progressed at a much faster rate, yet a practical LED Light was not produced until 1989.
National LED lights have been in production since 2001 and yet several conventional lighting products are still used in warehouse and industrial settings where high bay lights are required. Some of the most common include metal halide (MH), high pressure sodium (HPS), and fluorescent lights. Each of these lamp types represented improvement over prior incandescent lights, but industrial LED lighting easily outperforms its conventional counterparts in important ways. Let's take a look at some of the various considerations when deciding whether an LED retrofit is appropriate for your warehouse or industrial space.
LED high bay lights vs Metal Halide high bay lights: If you've ever been to a ballgame, the lights blazing from overhead onto the field are likely metal halide. MH lamps are still common in sporting and warehouse/industrial/commercial uses. Some benefits of MH lights include decent color rendering and comparatively adequate foot-candle levels (as opposed to most incandescent lamps). Some major drawbacks are that they require warm up time to reach full brightness (sometimes 15-30 minutes), they are expensive to operate and maintain, and much of the energy they produce is wasted in the form of heat.
LED high bay lights vs High Pressure Sodium (HPS) lights: HPS lights are another common lamp used in warehouse, industrial, business, and recreational facilities where high bay lighting is appropriate. Their benefits include affordable purchase prices compared to other industrial lighting, improved energy efficiency (low operating costs), and relatively long lifespan. HPS lighting technology is still among the most efficient and economical of conventional lamps, but LED high bay lighting is far superior on all 3 counts. The downsides of HPS lamps include the lowest quality color rendering in the lighting industry and a warm up period before reaching full intensity.
LED high bay lights vs Fluorescent lights: Though not as common as the other 2 conventional types of warehouse lighting, fluorescent lighting is sometimes utilized in warehouse or industrial applications (primarily T12, T8, and T5 lights). Fluorescent lights are less expensive in initial costs and relatively efficient (especially when compared to other conventional bulbs). The cons include the presence of toxic mercury (which requires specialized waste disposal procedures), decreased lifetime if switched on and off daily, and the necessity for a ballast to stabilize the light.
You might be saying that your conventional warehouse lights are not that old and seem to be serviceable, so you have no need for lighting retrofit services right now. However, it is more affordable than you think to upgrade conventional warehouse lights to LED.  There is no cost for you to have the lighting experts from National LED visit your facility, show you samples of our LED high bay lights, and prepare a proposal for upgrading your lights including the photometric analysis and a detailed ROI report. With the Return On Investment, upgrading your industrial lights and warehouse lights may be less expensive than you think.