What are LED Parking Garage Lights?
Parking garages are traditionally illuminated by HID or fluorescent lighting, which are two common technologies of the past. In recent years, many have been converting to LED canopy lights or LED tube lighting for many reasons if not building new with LED technology. By putting bright LED garage light fixtures in place, the garages are illuminated more efficiently and benefit from higher performance lighting which improves safety and security of the structures. National LED has an abundance of solutions which will increase the aesthetics, efficiency, and safety of your parking garage lighting needs.
Benefits of LED Parking Garage Lighting
Each parking garage has several LED lighting solutions that National LED can provide depending on the individual personality or needs of that garage. Whether you are building a new structure or are looking for LED canopy lights or tube lighting, we can help without sacrificing lighting levels while reducing energy and maintenance costs.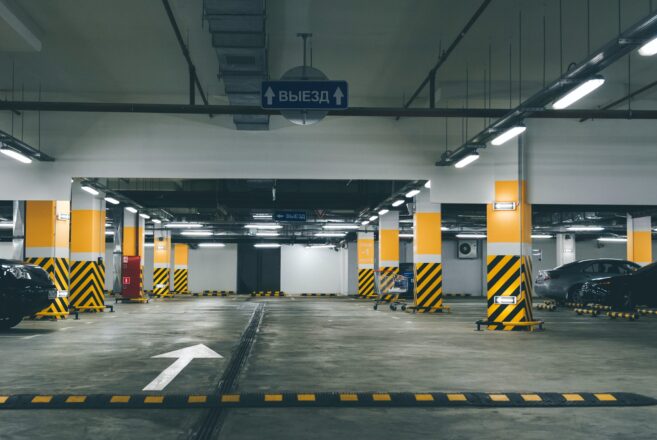 Cost and Energy Savings
LED garage light fixtures greatly surpass the lifespan of HID or fluorescent lighting. The average life of LEDs is 100,000 hours compared to metal halide bulbs which have a life of up to 15,000 hours. Bright LED garage light fixtures also waste very little, if any infrared energy and emit light directionally. LEDs emit light at 180 degrees, which means they illuminate a desired area without wasting light behind the fixture. In comparison, HID or fluorescents emit light 360 degrees, leaving light shining behind the fixture and therefore not putting that energy to use. LED canopy lights and tube lighting is on average 70% more efficient than older technology and allows savings of thousands of dollars in cost of energy.
Easy to Manage
Choosing LED garage light fixtures means there is no replacement of ballasts or bulbs. LEDs require fewer accessory lamp parts and require no warm up or cool down time, just turn them on and off with the flick of a switch. Focus your lighting on specific areas, even brighten and dim them! This allows you to align your structure with your local municipality and reduce light pollution, which is not as easily possible with HID or fluorescent options. As stated before, the life of an LED is much longer than other lighting solutions which means you can achieve bright LED garage lighting without maintenance for up to 20 years. Yes please!
Safety and Security
Our array of bright LED garage light fixtures make parking structures more inviting and secure by eliminating eeriness and the feelings of insecurity that many feel when dark shadows are present, caused by insufficient lighting. Having bright LED garage lights in your structure will make people feel safer and more inclined to come by your establishment. Not to mention, in the event that an inconvenient parking garage accident occurs LED lighting allows security video to capture the incident more clearly. Our LED parking garage lighting solutions illuminate cars, people, pillars, walls, and signs. In addition, National LED's canopy lights and tube light options provide low mounting heights and excellent uniformity.
Which LED Parking Garage Light is for You?
Whether you are looking to replace existing lighting or looking for bright LED garage light fixtures for a new structure, National LED has you covered. Our QubePark XL is a slim (only at 2.7 inches high), low profile LED canopy light which is ruggedly built, yet aesthetically pleasing to the eye. With the capability to replace a vast array of existing fixtures including metal halide and fluorescent, the QubePark XL comes in two sizes to fit your needs. While providing Type V optical distribution to ensure optimal lighting distribution, the QubePark XL is an efficient and bright LED garage light fixture.