29 APR 2022
If you're looking for a reliable and efficient LED wall wash lighting solution for your commercial or signage applications, look no further than LinearStar from National LED. Our linear LED fixtures are designed specifically for outdoor use, and feature a rugged die-cast aluminum housing that can withstand the harshest weather conditions. Plus, with our wide range of color options and beam angles, you can create any desired effect with ease. So if you're in need of an outdoor-rated LED wall wash light, be sure to check out our LinearStar fixtures!
Why do you need a lighting solution for your outdoor signs?
It's simple – because they are an important part of your business identity and branding. Outdoor signs are one of the first things that potential customers will see when they pull up to your building, so you want to make sure they are well-lit and visible. Not only do our LinearStar fixtures provide superior lighting for outdoor signs, but they are also very energy-efficient, which means you'll save money on your energy bills in the long run. So if you're in the market for an outdoor sign lighting solution, be sure to check out our LinearStar fixtures! You won't be disappointed.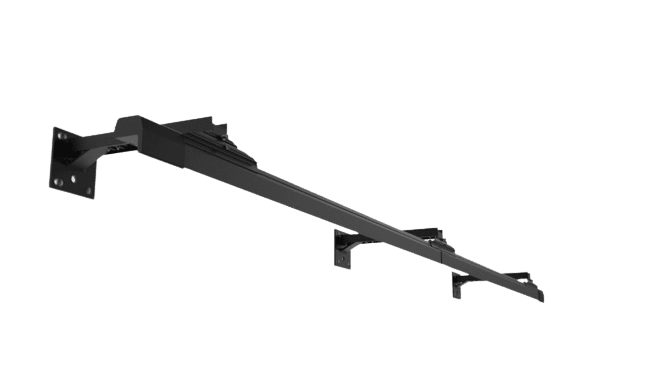 Benefits of using National LED's LinearStar for sign lighting
Energy efficient:
LED lighting is quickly becoming a preferred choice for energy-conscious consumers. Known for its energy efficiency and long lifespan, LED technology makes it easy to reduce your energy costs and improve the quality of light in your outdoor spaces. One product that exemplifies these benefits is National LED's LinearStar system, which uses advanced LEDs to create ultra-slim, energy-efficient outdoor lights. Compared to traditional light sources like incandescent bulbs or compact fluorescent lamps (CFLs), LinearStar uses less energy while producing a brighter and more consistent light that reaches further. And with its replaceable design, your energy savings can continue year after year as you swap out old bulbs with newer ones that use less energy than ever before. So if you're looking to save on your energy bills in the long run, consider investing in LinearStar – the ultimate choice in energy-efficient outdoor lighting.
Long lifespan:
LED lights are rapidly becoming the preferred choice for energy-efficient lighting, both indoors and out. One of the main reasons for this is their long lifespan. While traditional incandescent bulbs typically only last for around 1,000 hours, our LED lights can last for up to 100,000 hours. This means that once you install our linear LED fixtures, you can be confident that they will provide years of reliable service. Additionally, LED lights are much more energy efficient than traditional incandescent bulbs, so you'll save money on your energy bill each month. Whether you're looking for indoor or outdoor lighting, LED bulbs are the way to go.
Easy to install:
Outdoor lighting is an important part of any business. It can provide security, safety, and a touch of style. At our company, we offer a variety of outdoor lighting solutions to suit any need. Our beam angles range from narrow to wide, and our products are easy to install. We also offer a variety of finishes, so you can find the perfect look for your business. Our team is passionate about outdoor lighting, and we're here to help you find the perfect solution for your needs. Contact us today to learn more about our products and services.
Durable:
At National LED, we take pride in our high-quality LED fixtures. Our linear LED fixtures are built to last, with a tough and rugged die-cast aluminum housin g that can withstand even the harshest weather conditions. These energy efficient lights are perfect for any outdoor setting, from gardens and walkways to decks and pathways. Whether you're looking for a subtle light to illuminate your yard or a bright and vibrant lighting solution for your commercial property, our line of LED fixtures has you covered. So if you're looking for a lighting option that will stand the test of time, look no further than our high-quality line of linear LED fixtures. We guarantee that these durable, energy efficient units will give you years of illumination without breaking down or falling apart. We never cut corners when it comes to providing top-of-the-line energy efficiency and quality construction. So why wait? Invest in our cutting-edge LED lights today and experience the difference!
How can you use these outdoor lights?
At National LED, we understand the importance of business signage to help promote and grow your company. Whether you need a simple outdoor sign or a large billboard, we provide bespoke solutions to meet your every need. Our linear LED wall wash lighting is an ideal choice for outdoor spaces that require illumination at night. We offer a range of finishes to help you achieve the exact look you desire for your business. So if you are looking for outdoor lighting solutions that really make an impact, contact us today and let us help you create the perfect business signs for your company! Thank you for considering our services.
Contact us today for an estimate on your project!
Look no further than our LinearStar fixtures for an outdoor-rated LED wall wash light! It is the perfect solution to meet your needs, whether it be in harsh weather conditions or if you want a specific effect. Choose from various color options and beam angles that will allow any desired installation option with ease – we'd love help bringing these great products into fruition on your next project!!